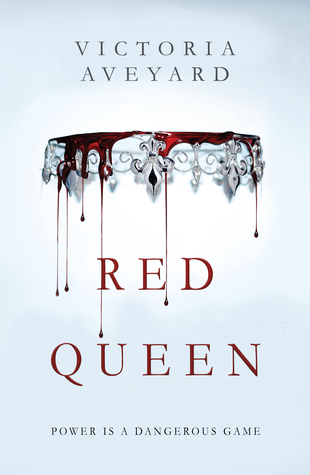 Red Queen by Victoria Aveyard
(The Red Queen Trilogy #1)
Published by: Orion
Genre: Young Adult Fantasy
Release date: February 10th 2015
The poverty stricken Reds are commoners, living under the rule of the Silvers, elite warriors with god-like powers.

To Mare Barrow, a 17-year-old Red girl from The Stilts, it looks like nothing will ever change.

Mare finds herself working in the Silver Palace, at the centre of those she hates the most. She quickly discovers that, despite her red blood, she possesses a deadly power of her own. One that threatens to destroy Silver control.

But power is a dangerous game. And in this world divided by blood, who will win?
MY REVIEW:
I'm very sorry to say that I won't be recommending this book to anyone. I was very excited to read this novel, but it turned out to be nothing but a disappointment for me. *sad face*
Silvers and Reds. Ruling powerful race and weaker serving race, divided by the color of blood. A main protagonist who finds herself among enemies, forced to be someone she is not while fighting for the memory of her beloved and joins terrorist organization which is trying to take ruling class down. Sounds familiar, right? That's because we read it all in
Red Rising
already. I know that it is hard to come up with completely unique premise but in this case, similarities were too strong and left me with the bad taste in my mouth. At the end, Red Queen turned out to be just a childish version of Red Rising and lacked the spark of thought-provoking dystopian novel I had expected it to be.
This story had a potential, there were glimmers of how good it could be if executed in different way with more attention to details and world-building. Because I wanted more. More information about society, more of its history and hierarchy. I wanted more of everything but it wasn't delivered. Author provided only basic information to get the story going but it wasn't enough for me. The lack of world-building led to the lack of emotional feelings towards characters (and story itself) on my part. So even though the writing was decent, I have to emphasize that storytelling skills were definitely lacking in this novel. When author wagers everything on banters, flirting and forming of shallow love triangle (square), it can't work. Especially, it can't work in dystopian novel. Not only I was left unsatisfied, but I was also quite bored while reading it.
Don't take me wrong, I love me some romance in books. Unfortunately, in this case it wasn't the kind of epic romance that would steal my breath away and made up for not so stellar storytelling. Heroine spent most of the time trying to save (get closer) to all the boys she was falling for and sorting her confusing teenage hormones, rather than paying attention to the bigger picture in the story. And that's one of the reasons why I couldn't take this novel seriously.
Moreover, this book has one of my biggest peeves when it comes to reading. Every single male character heroine encountered was mesmerized by her as soon as he met her. I hate that. It always annoys me and ruins my reading experience since I have to constantly roll my eyes at the sheer stupidity of it.
I know that this book is loved by many bloggers and will gain even more fans when it is released, but it didn't work for me. If you are the one to seek complex stories with well-thought-out storyline and elaborate world-building, than Red Queen is probably not for you either.
Never Miss a Post:
Follow