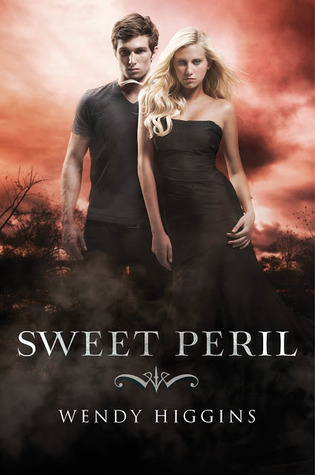 Sweet Peril by Wendy Higgins
(The Sweet Trilogy #2)
Goodreads Blurb:
Anna Whitt, the daughter of a guardian angel and a demon, promised herself she'd never do the work of her father—polluting souls. She'd been naive to make such a vow. She'd been naive about a lot of things.

Haunted by demon whisperers, Anna does whatever she can to survive, even if it means embracing her dark side and earning an unwanted reputation as her school's party girl. Her life has never looked more bleak. And all the while there's Kaidan Rowe, son of the Duke of Lust, plaguing her heart and mind.
When an unexpected lost message from the angels surfaces, Anna finds herself traveling the globe with Kopano, son of Wrath, in an attempt to gain support of fellow Nephilim and give them hope for the first time. It soon becomes clear that whatever freedoms Anna and the rest of the Neph are hoping to win will not be gained without a fight. Until then, Anna and Kaidan must put aside the issues between them, overcome the steamiest of temptations yet, and face the ultimate question: is loving someone worth risking their life?
* 5 STARS * Review:
I was amazed by writing, captivated by story and mesmerized by characters. I LOVED IT! This book is about love and hatred, hope and despair, sins and humanity. Sweet Peril is much more than just ordinary paranormal story. Without exaggerating I can say that this series is definitely the best one when it comes to fallen angels (or angels in general) stories!
My Kaiden:
My Anna:
Anna is not this naive girl we knew in previous book anymore. Story is set couple of months after events in
Sweet Evil
, Anna is under constant supervision of demon whisperers and she is forced to work for her demon father - she had to become the famous party girl and temp people into commiting sins. Is she happy about it? Of course not, but if she wants to live, she has no other choice. Under weight of guilt and responsibility, it is visible that our little Anna matured up. And I have to admit I love this new version of Anna even better.
Even after prologue itself, it was clear that this sequel was destined to be more dangerous and depressive than previous book in series. Things were still not looking good at all for Anna and Kaiden or other Nephs.
"My life was a tiny dot on the map. But even those tiny dots could make a difference - especially when they came together. I grasped that thread of hope and let it lift me."
Kaiden is still this same tortured soul, feeling unworthy of Anna, pushing her away with every opportunity. But no matter how much he tries to pretend, it is visible how deep his feelings for Anna are. Kaiden is great character. He has hard life, he has none saying in it, but he still tries to be better person even though it seems there is no hope for him to reach happiness. He is admirable and inspiring person.
Also, even though this is YA series, it has some serious sexy hot feel into it. And I blame it all (in a very good way) on Kaiden. He is just irresistible, sensual and incredibly attractive boy. However, besides Anna's and Kaiden's personal turmoils, Sweet Peril reveals plenty of new info about fallen angels or Nephs and overall it is pretty adventurous story. You will never be bored, on the contrary, you will always be on your toes while reading it.
Sweet Peril felt like a very mature read to me considering it is categorized as YA genre. Author never idealized characters or life itself and showed negative sides of it in quite believable way even though this is paranormal series we are talking about. And I loved everything about it, there was no single moment I would feel annoyed or bored. Kudos to the author, I seriously cannot wait for final instalemnt of this trilogy!!!