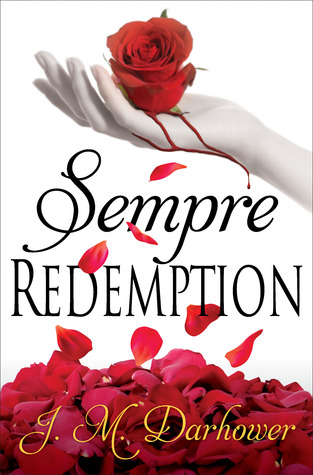 Sempre:Redemption by J.M. Darhower
(Forever Series #2)
Genre: Romantic Suspense
Synopsis:
In this thrilling and sexy follow-up to Sempre, two young lovers struggle to keep their relationship intact after they become deeply enmeshed in the dangerous mafia-run crime ring they once tried to overthrow.

Haven Antonelli and Carmine DeMarco have been through a lot. Haven was taken in by Carmine's father, and with his family's help, she escaped a gruesome fate. However, saving Haven from the dark intentions of a mafia family cost Carmine a steep price: he was forced to swear loyalty to them.

Now, still passionately in love, Carmine and Haven must face the fall-out of Carmine's forced service, as Haven discovers terrifying secrets about the family that enslaved both her and her mother—and why she matters so much in this intricate web of lies.
My Haven and Carmine:
* 5 STARS * Review:
The world of mafia and loyalty to La Famiglia does not mix well with the love and emotions. Will be Carmine and Haven be able to survive the roughness of La Cosa Nostra?
I cried, I swooned, I laughed, I mourned, I was moment from heart attack... This book is pure brilliance and more than worthy sequel to Sempre!
I thought that I couldn't love and admire characters from previous instalment more that I did and I was most certainly wrong. I was inspired by Haven's strenght and ability to go on no matter what. I was fascinated by Carmine's unconditional and selfless love for Haven. I was touched by Vincent's determination to do anything for his loved ones. And I was surprised by my affection towards Corrado and my vehement need to see this deeply flawed man happy and at peace. Without the doubt I can say that Corrado and Carmine are one of the most interesting and fascinating characters ever written!
Nothing is just black and white in this book. There is good in bad people, as well as there is some bad in good people. And some people are purely evil. So whom to trust?
This is not just a love story. This is a message to all readers. Message about redemption and conscience, about honour and determination to live the best under given circumstances.
J.M. Darhower
is a master in storytelling. Her characters come alive while you read her story and it is impossible not to be immersed in the world she creates. I love this series and recommend it to EVERYONE from bottom of my heart!
Interview With J.M. Darhower:
I was honoured to have a quick chat with J.M. Darhower, here is result:
* It is well known that you are huge fan of Godfather movies. What else inspired you to write Forever series?
It was my fascination with the Mafia and my passion about the subject of human trafficking that inspired the plot of Sempre and Sempre: Redemption. The two subjects have the same sort of themes to them that went together well. I wanted to write a story about love, and sacrifice, and redemption, and freedom… and explore the concept of what it truly means to be free.

* Now a though one. Who and why is your favourite character in Forever series?
Hmmm. I love so many different characters for so many different reasons, but I have to admit the one who gets under my skin the most is Corrado Moretti. I enjoyed writing him and exploring the mind of a character that is darker than most, who does what he does with no apologies (again, it's probably due in part to my Mafia fascination).
* Beside amazing Forever series, I also adore your book Extinguish. Do you prefer writing paranormal or contemporary stories?
I enjoy both, honestly, but I lean toward the contemporary. It feels more natural to me when I'm dealing with humans and exploring their motivations instead of delving into the paranormal and creating the unknown.

* What helps you to concentrate and gets you into the right mood for writing?
Music, usually… the tone of the music tends to influence what I'm writing, so whenever I need to get in a certain mood I just put on a song (the louder, the better).
* What is in store for your fans in the future? What can your readers look forward to?
I have some other stories in the works that I hope to have news about soon, including a new series that I think my readers will enjoy. Can't say much else about it right now except that some awesome things are definitely coming in the new year.
About Author:
JM Darhower is the author of countless stories and poems, most of which only she has ever read. She lives in a tiny town in rural North Carolina, where she churns out more words than will ever see the light of day. She has a deep passion for politics and speaking out against human trafficking, and when she isn't writing (or fangirling about books) she's usually ranting about those things.

Chronic crimper with a vulgar mouth, she admits to having a Twitter addiction. You can usually always find her there.

CONNECT WITH J.M. DARHOWER: