Stacking The Shelves is all about sharing the books you are adding to your shelves, may it be physical or virtual. This means you can include books you buy in physical store or online, books you borrow from friends or the library, review books, gifts and of course ebooks! Hosted by
Tynga's Reviews.
WORD COUNT: 823 695
According to
How Long to Read
I read 823 695 words in August. Not bad :)
I'm still on strict "no new ARCs" policy which allows me to catch up on some older releases I have wanted to read since I don't have to spend time writing full reviews for publishers.
E-BOOKS (READ):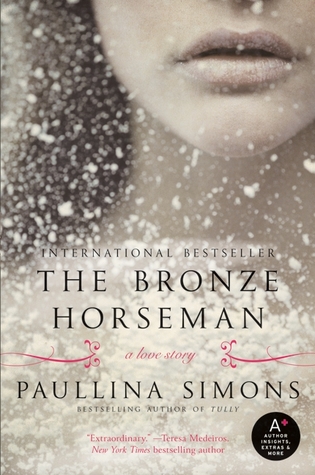 .
.
The Bronze Horseman is a complicated love story of teenage girl, who forced by war, quickly outgrew her innocence and childishness. First of all let me say that I did not enjoy this book very much. Can I understand why is this book so popular? Yes, I can. Did I fell in love with it as many others? Unfortunately, not at all. Read my full review
HERE
.
Before We Were Strangers is an average second chance love story that covers more than 15 years. I really enjoyed present storyline but I was kind of bored with past storyline so I'm going with middle road of 3 stars.
I absolutely loved it, review coming next month :)
Wild Reckless by Ginger Scott (4 STARS)
Enjoyable high school haters-to-lovers romance. Even though Wild Reckless belongs to YA contemporary genre, teenage heroine didn't frustrate me which earned this story plus points. Add dark hero who truly isn't jerk and you had a winner!
Maybe in Another Life by Taylor Jenkins Reid (4 STARS)
This book kept me glued to the pages until the very end. I really enjoyed this story about parallel universes.
I only wish that there was another parallel universe added to this story...
What You Left Behind by Jessica Verdi (DNF)
I had to put this one aside. Looks like I was not in the mood for such story. But I definitely plan to get back to it in the future!
Sins of the Piano Man by solareclipses (4 STARS)
I have read plenty of fanfic stories this summer but only this one is worth of mentioning. Sins of the Piano Man is haunting story with beautiful writing style that should be considered as a must-read for all fans of canon twilight fanfiction!
MY AUGUST BLOG REVIEWS:
WHAT DID YOU MISS THIS MONTH?
I posted 2 non-review features this month, you can check them out here:
WHAT TO LOOK FORWARD TO?
A.K.A. BLOG ANNOUCEMENT
I will be on short blogging hiatus in September. I'm getting married next month (YAY!) so I will be busy and most probably won't have time for my blog or social media. But do not despair! I will be back with Stacking the Shelves post at the end of September.
WHAT DID YOU ADD TO YOUR SHELVES RECENTLY?
HAVE YOU READ ANY OF ABOVE MENTIONED BOOKS?