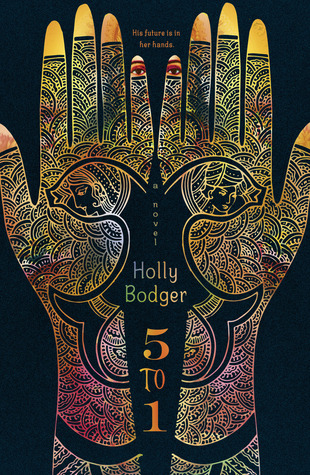 5 to 1 by Holly Bodger
Genre: YA Dystopia
Published by: Knopf Books FYR
Release date: May 12th 2015
In the year 2054, after decades of gender selection, India now has a ratio of five boys for every girl, making women an incredibly valuable commodity. Tired of marrying off their daughters to the highest bidder and determined to finally make marriage fair, the women who form the country of Koyanagar have instituted a series of tests so that every boy has the chance to win a wife.

Sudasa, though, doesn't want to be a wife, and Kiran, a boy forced to compete in the test to become her husband, has other plans as well. As the tests advance, Sudasa and Kiran thwart each other at every turn until they slowly realize that they just might want the same thing.

This beautiful, unique novel is told from alternating points of view-Sudasa's in verse and Kiran's in prose-allowing readers to experience both characters' pain and their brave struggle for hope.
MY REVIEW:
Couple of months ago I read a blurb for what appeared to be very unique YA dystopian novel. Synopsis for
5 to 1
completely enticed me at that point and I have been impatiently waiting to get my hands on it ever since. I am happy to say that once I actually got to read this novel, I have not been disappointed.
Confession time. I have never been a fan of poetry. But Sudasa's POV in verse impressed me big time. It wasn't abstract or philosophical as poems usually are. It had real plot. And whole "written in verse" thing gave this book a magical (almost ethereal) feel. I absolutely loved the uniqueness of it.
Same as in other dystopian novels, couple of important topics such as corruption, fairness or politics are discussed throughout
5 to 1
. But while other dystopian novels evoke fantasy or sci-fi vibes,
5 to 1
felt very realistic. No surprise there since
5 to 1
deals with topic that already is a real problem in India (gender and power imbalance) and this story takes place only 40 years from now. So even though this is fiction intended for your leisure,
5 to 1
also makes you think about stuff that hits close to home and brings some seriousness into your reading.
A little warning for all romance junkies. This is not a love story. If you expected one or if you require a lot of romance in your books, you will be disappointed.
5 to 1
tells a tale of two people fighting for a chance to live a happy life and fighting for a possibility to choose their own destiny. The topic itself was very powerful and in this case I was glad that author didn't complicate it with unnecessary drama that usually accompanies romance in YA novels.
Holy Bodger is definitely an author to look out for. She proved her admirable creativity and writing skills in this debut novel and I cannot wait to read some more from her!