Book #3 in my all time favourite contemporary romance series by Sylvain Reynard will be released soon so I decided to share with you my thoughts on first 2 books and let you know why I love them so much! In case you haven't read those books, now is the best time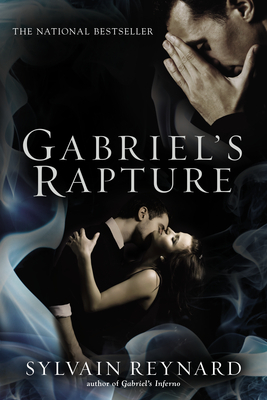 GABRIEL'S INFERNO SYNOPSIS:
Enigmatic and sexy, Professor Gabriel Emerson is a well respected Dante specialist by day, but by night he devotes himself to an uninhibited life of pleasure. He uses his notorious good looks and sophisticated charm to gratify his every whim, but is secretly tortured by his dark past and consumed by the profound belief that he is beyond all hope of redemption. When the sweet and innocent Julia Mitchell enrolls as his graduate student, his attraction and mysterious connection to her not only jeopardizes his career, but sends him on a journey in which his past and his present collide. An intriguing and sinful exploration of seduction, forbidden love and redemption, "Gabriel's Inferno" is a captivating and wildly passionate tale of one man's escape from his own personal hell as he tries to earn the impossible...forgiveness and love.
My Julia and Gabriel:
* 5 STARS * REVIEW:

Wow! This is a phenomenal book!

Gabriel's Inferno is the best story about forbidden love I have ever read. All characters were believable and real. They have their ups and downs, fears and dreams, past issues and hopes for future. This is very compact and smart book. It has everything - romance, erotica, art, religious elements. I really enjoyed reading it, it made me cry, laugh, smile, anxious... Reading Gabriel's Inferno was really a fulfilling experience! And I absolutely love all those references to another classic literary works, especially the ones considering Lord of the Rigs.

Main female character, Julia, is kind, sweet, smart and reincarnation of pure goodness. But also, she can be very passionate and angry when needed. She has definitely become my favourite female heroine. She always did exactly the same thing I would do if I was in her shoes. And Gabriel... he went thought various changes during the book and I have no other choice than fell in love with him. He may have a dark past and intense personality, but he is a true gentleman and he knows how to spoil a woman. I felt so much compassion for all characters, not just for Julia and Gabriel. Most of the time it was a sensual and pleasant reading but sometimes it was very heart-wrenching and my heart was racing when something bad was about to happen or something tragic to be discussed (and there is not many books that would do that to me).

Sylvain Reynard earned a prominent place on my favourite bookshelf with this book!
GABRIEL'S RAPTURE SYNOPSIS:
Professor Gabriel Emerson has embarked on a passionate, yet clandestine affair with his former student, Julia Mitchell. Sequestered on a romantic holiday in Italy, he tutors her in the sensual delights of the body and the raptures of sex. But when they return, their happiness is threatened by conspiring students, academic politics, and a jealous ex-lover. When Gabriel is confronted by the university administration, will he succumb to Dante's fate? Or will he fight to keep Julia, his Beatrice, forever? In Gabriel's Rapture, the brilliant sequel to the wildly successful debut novel, Gabriel's Inferno, Sylvain Reynard weaves an exquisite love story that will touch the reader's mind, body, and soul, forever.
My Julia and Gabriel:
* 5 STARS * Review:
Wow, Sylvain Reynard did not disappoint! This sequel is at least as good as
Gabriel's Inferno
. The book is full of thoughtful ideas about life, sin, forgiveness and love. In Gabriel's Rapture, the author connected love and sex in most beautiful way and the way he sees marriage is absolutely wonderful. The book has a very substantial effect on me. It made me cry and it made me think a lot about the life. I don't remember feeling such a strong compassion for main characters as I had when reading this book.
I really admire Sylvain Reynard for his ability of forming such a beautiful compliments in this book. Moreover, he is a master of teasing and all of the intimate scenes were so real and so tasteful. Some of the compliments said by Professor to Julia, made even me blushed when reading it :)
The author succeeded again in creating realistic characters. Gabriel and Julia are not perfect, and they both made various mistakes in this book. But this is how life goes, how we learn. Gabriel has changed a lot comparing to Gabriel's Inferno and I was so happy to read that he was able to find his peace finally.

This book about love and forgiveness touched my heart and I am sure I will re-read it couple of times.