Waiting On Wednesday is a weekly event, hosted by
Breaking The Spine
, that spotlights upcoming releases that we're eagerly anticipating.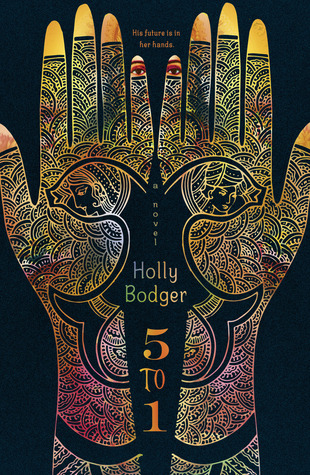 5 to 1 by Holly Bodger
Published by: Knopf Books
Genre: Young Adult Dystopia
Release date: May 12th 2015
Synopsis:
In the year 2054, after decades of gender selection, India now has a ratio of five boys for every girl, making women an incredibly valuable commodity. Tired of marrying off their daughters to the highest bidder and determined to finally make marriage fair, the women who form the country of Koyanagar have instituted a series of tests so that every boy has the chance to win a wife.

Sudasa, though, doesn't want to be a wife, and Kiran, a boy forced to compete in the test to become her husband, has other plans as well. As the tests advance, Sudasa and Kiran thwart each other at every turn until they slowly realize that they just might want the same thing.

This beautiful, unique novel is told from alternating points of view-Sudasa's in verse and Kiran's in prose-allowing readers to experience both characters' pain and their brave struggle for hope.
Why I'm waiting?
When it comes to books, I crave unique concepts and originality. Blurb of this novel promises exactly that. But most of all, I am curious to find out how alternating between prose and verse will work out!
WHAT BOOK ARE YOU WAITING FOR THIS WEEK?