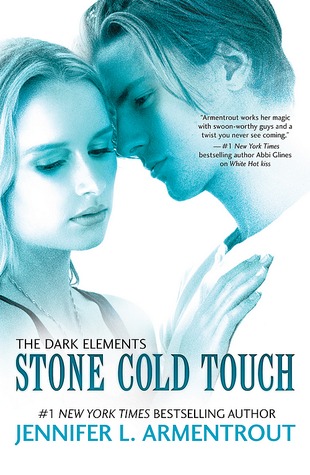 Stone Cold Touch (The Dark Elements #2)
Written by: Jennifer L. Armentrout
Genre: YA Paranormal Romance
Every touch has its price

Layla Shaw is trying to pick up the pieces of her shattered life—no easy task for a seventeen-year-old who's pretty sure things can't get worse. Her impossibly gorgeous best friend, Zayne, is forever off-limits thanks to the mysterious powers of her soul-stealing kiss. The Warden clan that has always protected her is suddenly keeping dangerous secrets. And she can barely think about Roth, the wickedly hot demon prince who understood her in ways no one else could.

But sometimes rock bottom is only the beginning. Because suddenly Layla's powers begin to evolve, and she's offered a tantalizing taste of what has always been forbidden. Then, when she least expects it, Roth returns, bringing news that could change her world forever. She's finally getting what she always wanted, but with hell literally breaking loose and the body count adding up, the price may be higher than Layla is willing to pay…
My Roth, Layla and Zayne:
* 2 STARS * Review:
I have always been a fan of paranormal YA stories by Jennifer L. Armentrout. Why such a low rating this time? I had to take one star down because of cheesy dialogues and writing style. Second star was taken down because of stereotypical characters and dragged out plotline. And another star was taken down because of the worst case of love triangle ever. Let me explain.
- Cheesy dialogues and writing style -
Cheesy according to
Urban Dictionary
:
"Trying too hard, unsubtle, and inauthentic. Specifically that which is unsubtle or inauthentic in its way of trying to elicit a certain response from a viewer, listener, audience, etc."
This is exactly what Mrs. Armentrout achieved in this book. I guess she was aiming for sounding young and cool. However, phrases and dialogues she presented felt foolish and over the top. Constant use of phrases like
"holy granola bar"
,
"crap on a cracker"
,
"Christ on a crutch"
,
"thank baby Jesus and cuddly angels"
or
"holly shit balls for Sunday dinner"
annoyed me big time and made characters look rather immature in my opinion. I am sure many readers won't be bothered by it, but it didn't work for me at all.
- Stereotypical characters and dragged out plotline -
Mrs. Armentrout presented nothing new in this book. We have seen it all in her previous books or in other books within YA genre. There is nothing special that would distinguish main characters of this series from other YA heroes and heroines. Yes, author came up with some pretty interesting twists towards the end. But even exciting last 20% couldn't change the fact that I was a little bit bored during first 80% of the book.
- The worst case of love triangle -
What was my biggest problem with this love triangle? The fact that Layla acted on her feelings towards both boys. If she was with one boy and internally struggling with her feelings for another boy, I could survive that (sort of). But the fact that she was leading both guys on simultaneously, alternatively being with one while thinking of other and vice versa... Who does something like that? A character I can't feel any compassion for. Plus both guys were willing to forgive Layla everything. And I really mean EVERYTHING. Zayne especially. And that is unhealthy. I couldn't respect them because of it and they all lost my sympathies in this book. And when I don't feel for characters, I simply can't enjoy the story.
So whose team are you on?
Team Roth or Team Zayne? I AM TEAM BAMBI!