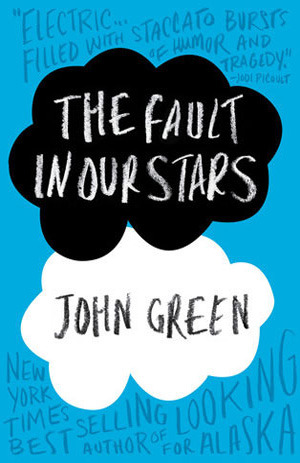 The Fault in Our Stars by John Green
Genre: Contemporary YA Fiction
Synopsis:
Despite the tumor-shrinking medical miracle that has bought her a few years, Hazel has never been anything but terminal, her final chapter inscribed upon diagnosis. But when a gorgeous plot twist named Augustus Waters suddenly appears at Cancer Kid Support Group, Hazel's story is about to be completely rewritten.
* 3.5 STARS * Review:
"That's the thing about the pain. It demands to be felt."
Bittersweet. Bitter. Sarcastic. Sad. Super sad. Entertaining. Nerdy. Emotional. Feelings-evoking. Depressive. I could go on and on describing this book, its characters and events. But I would never do it a proper justice. You have to read and see yourself.

I expected to be completely wowed, but I think I probably had too high expectations. Yet I liked the writing and realistic bitterness of events in this book. But I have to admit that some parts (dialogues) were over-the-top and seemed artificial and caused that I could not truly fall in love with this book.

Nonetheless, I absolutely understand why this book won Goodreads Choice Award in 2012 and I am more than glad that I finally found courage to read it even though I did not end up loving it.
"The world is not a wish-granting factory."