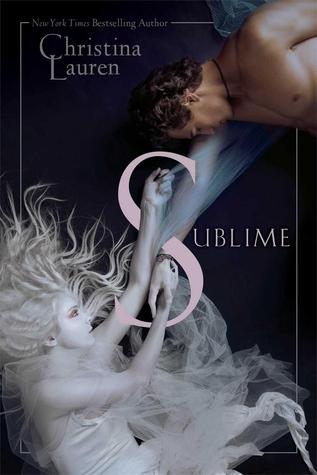 Sublime by Christina Lauren
Genre: YA Paranormal
Release date: October 14th 2014
Synopsis:
True love may mean certain death in a ghostly affair of risk and passion from New York Times bestselling duo Christina Lauren, authors of Beautiful Bastard. Tahereh Mafi, New York Times bestselling author of Shatter Me calls Sublime "a beautiful, haunting read".

When Lucy walks out of a frozen forest, wearing only a silk dress and sandals, she isn't sure how she got there. But when she sees Colin, she knows for sure that she's here for him.

Colin has never been captivated by a girl the way he is by Lucy. With each passing day their lives intertwine, and even as Lucy begins to remember more of her life—and her death—neither of them is willing to give up what they have, no matter how impossible it is. And when Colin finds a way to physically be with Lucy, taking himself to the brink of death where his reality and Lucy's overlap, the joy of being together for those brief stolen moments drowns out everything in the outside world. But some lines weren't meant to be crossed…
* 3 STARS * Review:
Sublime is bizarre but fascinating story about troubled sensitive boy and strange lost girl who is not really a girl. Colin and Lucy understand each other perfectly, but what will this special connection cost them?
Are you intrigued? I definitely was. Poetic writing, dual POV, intense characters. Sublime definitely isn't traditional YA paranormal story. It is a story about obsessive connection, about insane lenghts person would go to just to be with someone he is in love with.

A boy and a ghost girl. I knew there was no rational way that this story could end up happily, yet I couldn't stop reading, waiting for the "train wreck" to happen. Throughout the whole book I had no idea how it all would play out and that was exactly what kept me reading.

Most of the book I was rooting for Colin and Lucy to find a way to be together, until I suddenly wasn't. What happened? I was waiting for some kind of characters developement but it never came. Than story took quick turn into territory that made me really uneasy. I am all for fighting for you love, but everyone should draw a line. And for me that line is in the moment when being with someone is harmful for your health and your life in general. And even though this is fiction, I just couldn't enjoy reading about one of characters recklessly and repeatedly risking his life because of his "girlfriend".
However, I would like to emphasize the fact that writing was really good and beautiful. So even though plotline didn't work for me, do not make this fact discourage you from the reading. Who knows, you may end up loving it.
*ARC provided by publisher as an exchange for honest review*