THIS AWESOME BOOK WILL BE RELEASED IN 5 DAYS! A MUST-READ!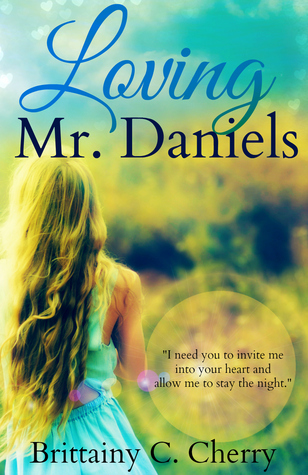 Loving Mr. Daniels by Brittainy C. Cherry
Genre: New Adult Contemporary Romance
SYNOPSIS:
To Whom it May Concern,

It was easy to call us forbidden and harder to call us soulmates. Yet I believed we were both. Forbidden soulmates.

When I arrived to Edgewood, Wisconsin I didn't plan to find him. I didn't plan to stumble into Joe's bar and have Daniel's music stir up my emotions. I had no clue that his voice would make my hurts forget their own sorrow. I had no idea that my happiness would remember its own bliss.

When I started senior year at my new school, I wasn't prepared to call him Mr. Daniels, but sometimes life happens at the wrong time for all the right reasons.

Our love story wasn't only about the physical connection.

It was about family. It was about loss. It was about being alive. It was silly. It was painful. It was mourning. It was laughter.

It was ours.

And for those reasons alone, I would never apologize for loving Mr. Daniels.

-Ashlyn Jennings
* 5 STARS * REVIEW:
* Beautiful - Unforgettable - Touching *
I have a soft spot for teacher/student romances. But a simple fact that author tells a story of forbidden love between teacher and student is no guarantee that I will enjoy it. However, this novel made a huge impression on me. Loving Mr. Daniels is
beautiful
,
complex
and
powerful
story that talks about life destinies of multiple people, story that I will remember forever!
With shocking prologue and emotional first chapter, author managed to hook me into the story pretty easily and since than I couldn't put the book down. So what is so special about this novel? Sometimes it is writing style that grabs your attention. In other cases, it may be a storyline. Or feelings that book evokes in you. This book has it all.

Miserable. That's how our 19 years old heroine Ashlyn feels at the beginning of this novel. Devastated by her twin's death, hurt because of her broken relationship with her mum, angry because she is forced to move in with her dad and his other family in different town to finish high school. Not the best outlook for a teenage girl, right? Can attractive musician Daniel she meets on train be her saving grace?

Daniel was perfect mix of nerdy and sexy young man. However, living in his own world of grief, there was a lot of misery in the life of Daniel Daniels. Connected by emotional pain and loneliness, a huge spark was ignited when Daniel and Ashlyn got to know each other one fateful night. If only they knew that what they felt that night would quickly become forbidden...

What happens when you meet your other half at really wrong time of your life?



I could write really long list of reasons why I loved this book but I'm going to mention just couple of them in this review. I absolutely adored Ashlyn's way of thinking and parts written in her POV. There was no over-the-top drama, just plenty of realistic emotions that were pouring out of this novel at every page, making me completely immersed into Ashlyn's and Daniel's life stories. Moreover, author created unique and unforgettable characters. Main or supporting ones, alive or dead, everyone played important role and touched me deeply in one way or another.

Ashlyn and Daniel were so "perfectly imperfect" together. Sharing all those nerdy quirks made them such an adorable and lovable couple for me, that I was rooting for them despite the fact that it was "forbidden". All I can say is that you need to experience this exceptional connection and love between those two people yourself. For me, Loving Mr. Daniels is a definite must-read!