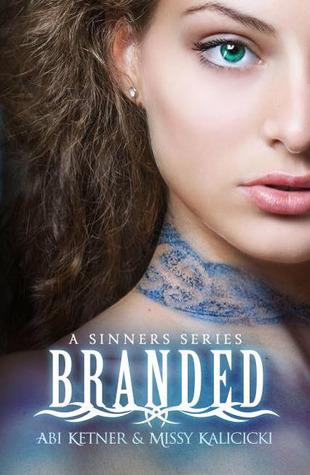 Branded by Abi Ketner & Missy Kalicicki
(Sinners #1)
Genre: New Adult Dystopian Romance
Release date: June 28th 2013
Synopsis:
Fifty years ago the Commander came into power and murdered all who opposed him. In his warped mind, the seven deadly sins were the downfall of society. He created the Hole where sinners are branded according to their sins and might survive a few years. At best.
Now LUST wraps around my neck like blue fingers strangling me. I've been accused of a crime I didn't commit and now the Hole is my new home.

Darkness. Death. Violence. Pain.

Now every day is a fight for survival. But I won't die. I won't let them win.

The Hole can't keep me. The Hole can't break me.
I am more than my brand. I'm a fighter.
My name is Lexi Hamilton, and this is my story.
My Lexi and Cole:
* 3 STARS * Review:

I loved the emotional first half of the book. But after promising introduction into this story I was a little bit disappointed with the second half which lacked element of surprise or twists that would keep me on my toes. However, I was still able to enjoy this book!
In Branded, after World War V, country is ruled by Commander who sends all "sinners" into The Hole as a way of keeping society "pure". All sinners are guarded by Guards of Commander and relationship of any form between sinner and guard is strictly forbidden. There is no trial, no evidence gathering. Accused sinners are sent to the Hole right away. And that is exactly the case of Lexi Hamilton - accused of sin, branded with sign symbolising a sin she supposedly committed and sent to the Hole with no real chance for survival. Her only chance may be Cole, the guard assigned to watch her. Byt why and for what cost?
Cole was a tough guy. Strong, fearless, focused, well-trained and loyal. Brought up as a guard, he did not have much choice how to live his life but he always tried to make the best out of it. When I got to know him better through out the book, I was completely enraptured by his character. If I was judging this book based on Cole, I would rate it with 5 stars because he deserves all stars in the world. Yeah, he was that awesome!
Lexi's life was turned up side down. Living in unhuman conditions, witnessing terrible things and being on her own unable to protect herself in the most dangerouns place on earth. Yeah, her life was not ideal at all and she was very weak. But she never lost hope for better life and always kept going no matter what.
"You can overcome anything...shorth of death.
Branded is about the will to keep fighting for the good cause, about need to survive and maintain some sort of humanity at the same time. The beginning of this book was very emotional for me. It deals with various human's destinies and none of them is easy or overjoyed.

Unfortunatelly, I had a big problem with characters development. Their feelings evolved and changed rapidly without proper background information or building up. The change came all of the sudden and it left me confused on more than one occasion. Moreover, Lexi was very weak character. She transformed from admirable person to girl who was unable to stand up for herself. I know she had to endure pretty horrible stuff but she was feisty when it came to strangers but when it came to her feeling, she was weak and it annoyed me a lot. And I am not even going to talk about many unbelievable and unrealistic details that kind of frustrated me through out the whole book.

The blurb of this book immediatelly caught my attention, so when I received a review copy I did not hesitate to dive into it. I really liked the world authors created in this book and I definitely want to continue in reading this series. But after captivating start, the ending was rushed and left me a little bit bitter and indiferrent...