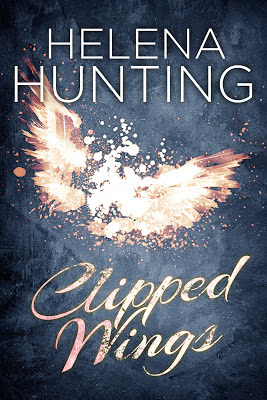 Clipped Wings by Helena Hunting
(Clipped Wings #1)
Genre: Contemporary Romance
Release date: March 4th 2014
Synopsis:
Their body art is hot. Their chemistry is even hotter.

From her dark hair sweeping below her waist to her soft, sexy curves, Tenley Page intrigues tattoo artist Hayden Stryker in a way no one else ever has…especially when she asks him to ink a gorgeous, intricate design on her back. Yet for all her beauty, there is something darkly tragic and damaged about Tenley that Hayden is everything.

Covered in ink and steel, Hayden is everything Tenley has never dared to want, awakening a desire to explore more than the art adorning his stunning body. Trapped by a past that leaves her screaming from nightmares, Tenley sees Hayden as the perfect escape. Although he has secrets too, if they both keep themselves guarded perhaps their intense physical connection will remain only that.

But nothing, not even passion, can keep them safe from their pasts…
THIS BOOK IS RECOMMENDED FOR MATURE READERS AUDIENCES ONLY. HOWEVER, THIS REVIEW ITSELF DOES NOT CONTAIN ANY INAPPROPRIATE MATERIAL.
My Tenley and Hayden:
* 5 STARS * Review:
Cupcakes-addicted tattoo artist and closed-off fragile girl. Both extremely attracted to each other and both hiding heartbreaking past. Can physical and emotional bond they slowly developped help them to overcome their nightmares or will it push them over the cliff?

Clipped Wings is one of the most intense and gut-wrenching stories ever. It is phenomenal book and I loved everything about it!
Hayden and Tenley are quite a pair. Him fearless, impulsive and overwhelming with OCD tendencies (yet adorable in his own way) and her being shy, emotionally unstable and completely messed up. I loved them together in this book!

Once Hayden agrees to do this significant tattoo for Tenley, one huge can of worms is open and story gets extremely emotional. Not so long ago, Tenley went through huge tragic event and her life crumbled completely. Can Hayden be the one to help her pick up the pieces? Or will it be too much for him to deal with their demons and heavy burden of the guilt they both carry?


Written in dual POV, author perfectly depicted emotions and feelings of both main protagonists. I loved how different individual chapters felt, depending on whose POV it was. Moreover, it was never re-telling of the same events which ensured the quick pace of the story.
It is worth mentioning that even though hero and heroine had extreme attraction between each other, this story never turned into insta-love. Their fascination witch each other was
cute
and brought some funny banters and entertainment into otherwise
depressive and heartbreaking
story.
Together with rich background story, author created strongly captivating book which you would not be able to put down. I am already couting days utill the realease of sequel!